In this article, I'll explain to you how to find out what your LED TV's motherboard VS.T56U11.2 Service Menu Code. Secret service menu code allows you to get and adjust advanced settings on your LED LCD TV. Normally LED LCD TV  Service menu hidden by the manufacturer so that no person can not change the internal advanced setting without the service menu. You can change of your own choice various types of internal settings in your LED LCD TV using the service mode of your LED TV. In this post, I will give you this popular board VS.T56U11.2 service menu code. If you want to change and personalized any settings on your tv this is the right platform for you.
Table of content
1.Basic information of this board.
2.The following issue of this mother board.
3.VS.T56U11.2 Service menu.
4.VS.T56U11.2 Resolution code.
5.Universal mother board fault finding video.
Basic information of this board :
Model no: VS.T56U11.2
Screen type: LED LCD
Resolution: Max 1920×1080
Power consumption: 35 watt
Power source: 90-240 volt~ 50 Hz/60 Hz
Backlight voltage: 28 to 52
USB Port: Available.
Features: Non-smart.
VGA: Available
Panel support:3.3 volts, 5volt and12 volt panel support in this board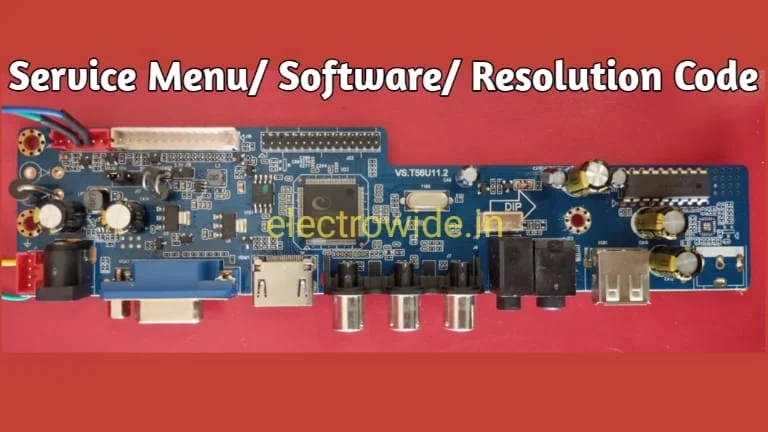 The following issue of this motherboard:
blank screen issue: Blank screen or no display problem not fixed by entering service menu.
The power indicator (RED) continuously glowing: This problem is not solved by entering the service menu due to the main board of TVs is not start only in standby mode condition.
Burn mode: Entering the service menu code with the remote does not fix the issue of burn mode. Onset, the remote does not function during burn mode. We have two tool options for restoring burn mode. The first is to remove the LED Lcd TV power cord from the main ac switchboard, then press the power key button of the LED Lcd TV panel continuously when switching on the main ac power. The television will restart after five seconds and restore to normal mode.
Mirror mode: The mirror mode problem can be repaired by entering the service menu code. Go to the panel settings option and switch mirror mode on/off after opening the service menu tab.
Remote not working: Due to the fact that the remote is not working in this case, this error can't possible to repair via the service menu. To fix this issue by upgrading the set's firmware.
Auto Restart: Upgrade the firmware on auto restart.
Hide the AV/HDMI: Input/source option can unhide entering service menu page.
The mapping problem on this board, as well as any other setting-related issues, can force it to enter the VS.T56U11.2 Service Menu Code.
VS.T56U11.2 Service Menu
This board has a unique setting. With a circuit remote, you can quickly change your settings below codes. VS.T56U11.2 Service Menu Code.
| | |
| --- | --- |
| Service Menu Code | Menu 1147 |
VS.T56U11.2 Resolution code
| Resolution code | Step1 | Step2 |
| --- | --- | --- |
| 1366x768 | SOURCE 20081 | SOURCE 31181 |
| 1024x768 | SOURCE 20082 | SOURCE 31182 |
| 1280x1024 | SOURCE 20083 | SOURCE 31183 |
| 1440x900 | SOURCE 20084 | SOURCE 31184 |
| 1600x900 | SOURCE 20085 | SOURCE 31185 |
| 1680x1050 | SOURCE 20086 | SOURCE 31186 |
| 1920x1080 | SOURCE 20087 | SOURCE 31187 |
When you enter the VS.T56U11.2 SERVICE MENU CODE and personalize the settings on TV during the times, unfortunately, can change any setting and your tv is not returning to normal mode, you must upgrade the new update software of this board and re-set your board to your preference. Tap (
here
) to get this board's updated software.
Disclaimer: Electrowide is not responsible for any data loss or product damage during the software installation process. If you are a new player, we suggest that you do not attempt to open this secret service menu page.