In this article, I will provide a universal motherboard VS.T53U11.2 SOFTWARE FREE DOWNLOAD link here. The universal motherboard comfortable for used 19 inches to 24 inches led LCD tv. This board well and good work in size model. Sometimes we found a minor problem in this board which is solved by updating the appropriate software of the board.
Basic information of this board:
Model No: VS.T53U11.2
Main Chip: TSUMV59
Board Size: 168.00×42.0mm
Resolution: 1920×1080
Aspect Ratio: 16:10,16:09,4:3
Multi-language: available
Speaker:5 watt
Input option: HDMI, AV, VGA, USB, RF Interface.
The panel supported: 3volt, 5volt, 12volt
Input voltage: 12volt dc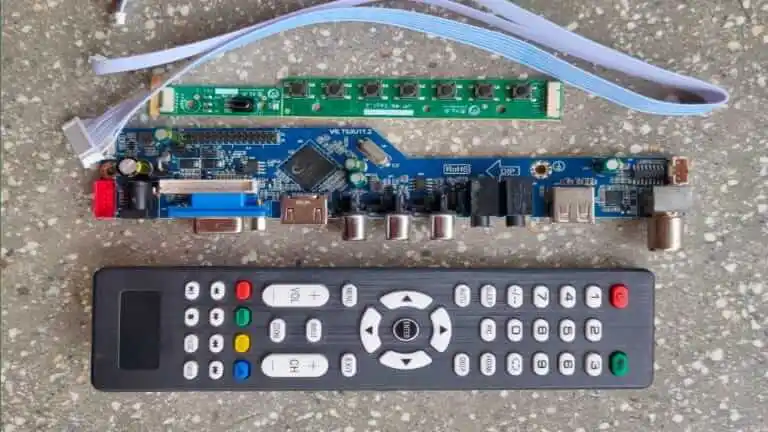 Common Problem Of This Board:
Standby indicator continuously glowing.
The picture moved the upper side down (mirror mode).
Mapping picture.
Some input options hide on the bar screen.
No audio mute permanently.
Burn mode on.
How to Install Software:
Download the panel resolution-wise software by clicking (click here) file and extract it.
Copy/Cut The extracted file from the folder to the pen drive.
Plug The Pen drive into the USB slot (Make Sure The Power Plug is Unplug).
After the pen-drive plugin switches on your main ac plug.
First check the keyboard indicator led. If there is flashing, that means is in the written program, waiting for the indicator light to turn green, work is done. If there is no flashing indicator light, Please cut off the power supply and connect the USB once again, then connect the power supply again on the ac board.
Service menu code of VS.T53U11.2 Universal motherboard: Menu 1147/ Source 308
VS.T53U11.2 SOFTWARE FREE DOWNLOAD:
VS.TP56U11.2 Universal board fault finding
Disclaimer: If you get any kind of data loss or product damage during the operating time on your tv by entering the service menu electrowide doesn't responsible for that. We would recommend you don't try to open this secret service mode if you are new in this field.