Hello, guys today I am giving you the one best way to download the software of Philips led tv. Today in this post I will give you Philips 32PFL5039/V7 Software Free download link for free with one click. You can download this motherboard software easily from the below link. If you are looking to get and download the software of this motherboard this is the right platform for you.
Philips 32PFL5039/V7 Software Free download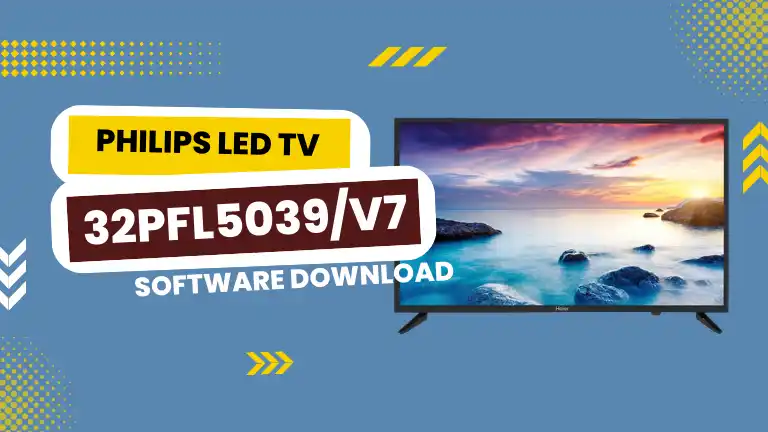 On this site, I will share electronic tips and tricks with all the LED LCD TV firmware and flash files for free of cost. If you want to get any LED LCD TV model software on this site just type the TV model number on the search box, which at the top right corner of this site.
If did not get your particular TV model software on the search box then requesting you to comment in the below comment box for getting the software of other models of LED LCD TV.
At your one request, I will upload your LED LCD TV model software as soon as possible. So please stay connected with electrowide.
In the previous upload post, I have already discussed with you how can download and install LED LCD TV software.
For easily downloading software I again mention below this motherboard software downloading process.
Basic information of this Philips 32PFL5039/V7 :
Model no: Philips 32PFL5039/V7
Screen type: LED
Power consumption: 60w
Power source: 110-240 volt~ 50 Hz/60 Hz
Backlight voltage: 78 to 95volt
USB Port: Available.
Features: Non-smart.
VGA: Available
How to Install PHILIPS 32PFL5039/V7 Firmware:
First, download the firmware file. (Link in Bellow)
Second, connect the programmer(RT809F) to the TV and desktop/laptop using the VGA cable.
Open RT809F software on Desktop/Laptop.
Scan the tv and update the downloaded file.
Download The Software: Click here
Philips 20PFL3439/V7 Software Download free
Disclaimer: If you suffer any kind of data loss or product damage during the software installation process, Electrowide is not responsible for that.